Elbbrücken underground station wins 2018 Steel Innovation Prize
The Elbbrücken underground station is a surface station on the U4 underground metro line in Hamburg's Hafencity district. It consists of three structural parts, separate steel bridges and a glass pedestrian bridge which also acts as a unique panoramic corridor. The station is a striking architectural structure roofed over by a 16 m high station concourse made of glass and steel. In future, up to 20,000 people a day are expected in the tube-shaped glass structure which has many unique engineering features due to its
sophisticated design and its location above the harbour basin.Schüßler-Plan performed the project engineering for the complete deep foundations and reinforced steel substructures for the station to support the steel bridges and steel roof. A further contract comprised structural engineering services to design the support structure for the skywalk foundations. The structure with its glass steel roof was awarded first place in the category "Steel in civil engineering" in the competition for the 2018 Steel Innovation Prize.
more
AWARD-WINNING
Rheinufer Tunnel is "Building of the Century"
During celebrations on its 125 years of existence, the Düsseldorf Association of Architects and Engineers voted on the "Building of the Century". The winner was our Rheinufer Tunnel which was inaugurated nearly 25 years ago. "There is no other structure in Düsseldorf that can compare to such an extent with the Rheinufer Tunnel for its positive influence on inner-city traffic and on the quality of life between the city centre and the Rhine bank," it said in the jury's verdict. Schüßler-Plan was responsible during the project for planning the traffic facilities, the civil engineering works as well as for structural engineering, site management and project supervision.
more
SUCCESSFUL SYMBIOSIS
Structural planning for Neue Messe Süd in Düsseldorf
Unusual architectural ideas are demanding from a planning perspective and sometimes cannot be implemented immediately. So it's all the more exciting when architects and engineers enter into a creative exchange and develop realisable and equally impressive structures from a situation of conflicting priorities. This is what happened for the new entrance for the Messe Düsseldorf. The 150m-long roof structure formed of rhombiodal diamond shapes reflects a successful symbiosis of architecture and structural planning: a unique design meets planning sophistication.
more
2018 Schüßler Prize
The Schüßler Prize winners for 2018 have been chosen: This year, the prizes endowed with EUR 5,000 go to Annkathrin Sinning and Hassan Khanafer. In cooperation with RWTH Aachen University, the annual Schüßler Prize has recognised the work of budding civil and industrial engineers since 1995. The winners have been awarded on the 24th of August in Aachen.
more
Out now: plan11
plan11 seems to fall out of alignment because its topic is not about a certain core competence or performance range: This time we focus on our regional presence in 19 German and two international cities as on our 850 team member strong workforce. Over the last six decades Schüßler-Plan developed from an one-man office for statics into one of Germany's leading owner-operated engineering companies. This magazin is both a snapshot of the current situation and a review of our history. Enjoy your reading!
Download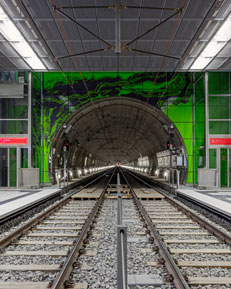 AWARDED
2018 NRW Architecture Prize
Every three to four years, the Association of German Architects (BDA) awards the North-Rhine Westphalia Architecture Prize. The competition only accepts works which previously received a regional prize from the BDA. In 2017, the BDA Düsseldorf conferred the Good Building Award on the Wehrhahn Line. Together with nine other projects it is now one of the winners contending for the hotly contested national architecture prize. The extraordinary high design quality of the uncommon construction assignment makes a worthy contribution to the culture of the urban environment, said the jury.
more
Schüßler-Plan anniversary
In 2018 we celebrate our 60th company anniversary and by doing so 60 years of tradition, innovation and engineering excellence. Founded in 1958 by structural engineer Willi Schüßler the company now has become one of Germany's leading engineering consultancy companies with more than 800 employees, 21 offices in Germany and abroad and a 360-degree spectrum.
Our slogan "60 Years of Planning the Future" is at the same time promise and commitment in order to provide sustainable, state of the art engieering services.