WEHRHAHN-LINE, New Underground and Urban Rail Route
DÜSSELDORF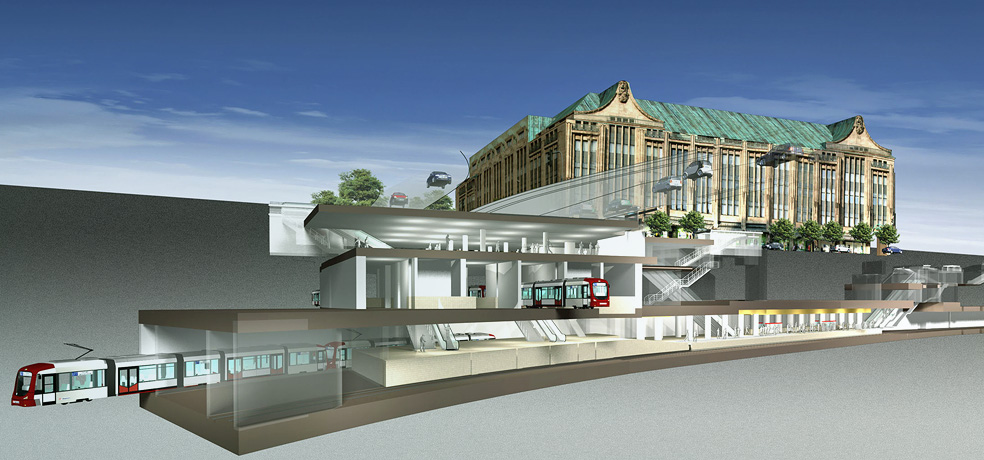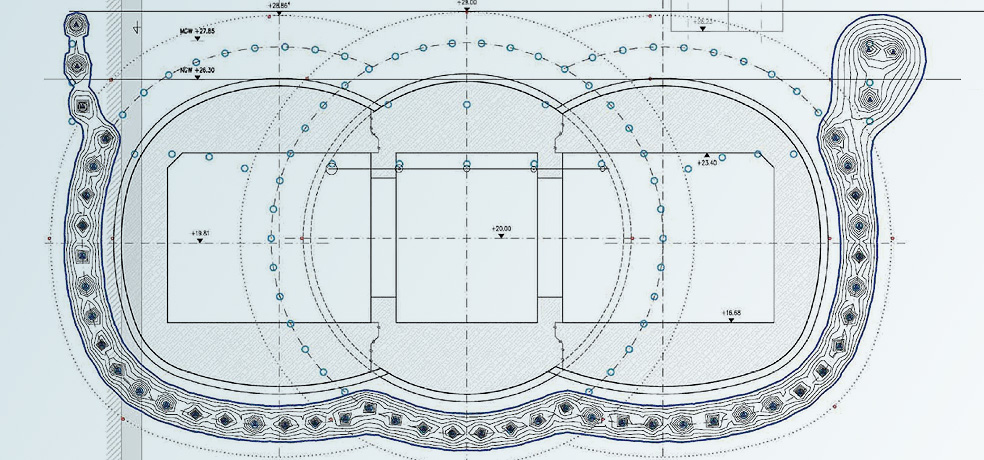 Wehrhahn-Line Düsseldorf, New Underground and Urban Rail Route
Construction on Düsseldorf's underground railway system began in March 1973. The city's second major surface line replacement project, the Wehrhahn-Line, will not only relieve the city centre of surface traffic and increase mobility but will also create new open spaces for urban design projects such as the Kö-Bogen development. The Wehrhahn-Line will have six underground and two surface stations and is due to be completed in 2015. It will run for 3.4 km between the Wehrhahn and Bilk S-Bahn stations, beneath the Schadowstrasse and Am Wehrhahn shopping areas, connect to the existing underground network at the Heinrich-Heine-Allee intersection, crossing the city below the built-up area between Berliner Allee, Königsallee and the listed Kaufhof department store on the Kö. Since tunnelling works began using the shield-driving method in March 2010, more than 90 % of the tunnel tubes had been completed after only two years.
In order to keep surface works to a minimum, all the station construction works were carried out using the top-down cut and cover method. Tunnelling works in close proximity to the groundwater were mainly carried out using the shield-driving method, one exception to this was the station beneath the listed Kaufhof department store. In this instance, the greater part of the underground railway station lies immediately below the foundations of the Jugendstil building and in order to avoid causing any vibration damage, a temporary freeze wall was installed at a depth of approximately 70 m and this section of the tunnel was excavated by drilling and blasting.
Client
State Capital Düsseldorf, Office of Traffic Management
Location
Düsseldorf, Germany
Technical Details
Construction method: drilling and blasting
Length of stretch: 3.5 km twin-track tunnel
Shield-driven tunnel: 2.35 km
Tunnel tubes: internal diameter 8.40 m
Integral structures: 6 underground stations partly constructed using cut and cover method, 2 surface stations
Services provided by Schüßler-Plan
As leader of the appointed engineering consortium
Project planning, engineered structures: HOAI phases 1 to 7
Project planning, traffic facilities: HOAI 1 to 7
Structural Engineering: HOAI phases 2, 3 and 6
Project management/Site management
Construction supervision
Construction supervision expansion:
Construction supervision of extension planning
Construction supervision of technical equipment
Construction site management
Project management
Schedule controlling
Cost controlling
Follow-up management
Awards
Building of the year 2014, AIV Düsseldorf
STUVA-Prize 2015