Europagarten tunnel
EUROPE DISTRICT Frankfurt am Main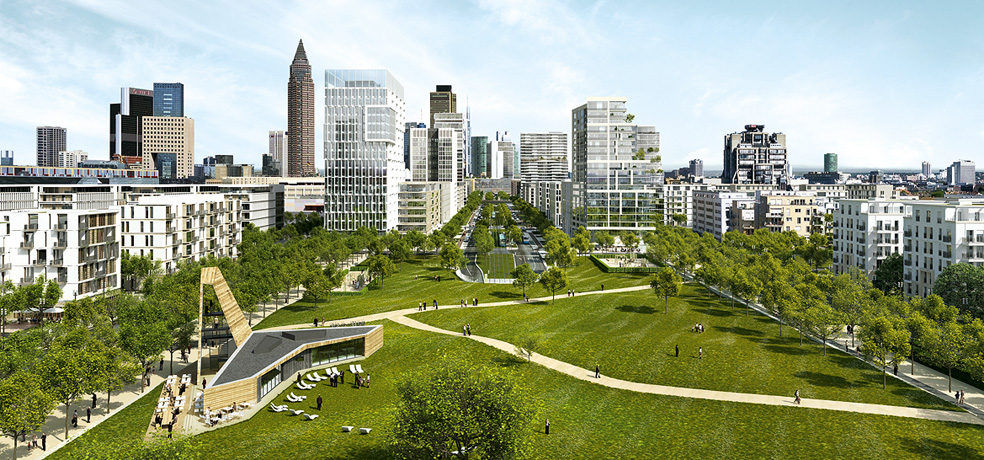 Building routes to the future
The tunnel beneath what will later be the Europagarten now makes it possible to drive the full length of the Europa-Allee from the Emser Brücke bridge to Am Römerhof, leaving Pariser Straße free of through-traffic. The three-tube tunnel is to be used jointly by the City of Frankfurt's Department of Roads and Development (ASE) and the Verkehrsgesellschaft Frankfurt (VGF) municipal transport company as represented by Stadtbahn Europaviertel Projektbaugesellschaft (SBEV). The two outer tubes of the tunnel have now been opened to private transport. The third, central tube is scheduled for later use by the city rail system and is planned to go into operation in 2022. Until that time, the central tube will be sealed with masonry walling. Schüßler-Plan worked on the planning of the joint construction project for the tunnel, including construction supervision and site management and the special demands of coordinating the various trades throughout all phases of the project on behalf of the City of Frankfurt and aurelis Real Estate GmbH & Co. KG. 
It is a task that called for particular attention to interpretation of the different standards and regulations in accordance with ZTV-ING and BOStrab, which had to be coordinated in consultation with the later tunnel users, the inspection engineers and the regulating authorities. The technical demands of the road tunnel and the city rail system also had to be coordinated and integrated in a single structure.
Schüßler-Plan has provided planning services for the technical installation of the tunnel since 2009, developed an overall safety concept, the emergency response and security plan, and ventilation and pollutant reports, and consulted on design of the tunnel for integration in the Europaboulevard and Europagarten development. 
Client
aurelis Real Estate GmbH & Co. KG
City of Frankfurt am Main
Location
Frankfurt am Main
Technical Details
Length: 395 m
Services provided by Schüßler-Plan
Project planning of engineered structures: Phases LP 2 to 9 in accordance with the HOAI (German fee schedule for architects and engineers)
Project planning of transport facilities: Phases LP 2 to 9 in accordance with the HOAI
Technical equipment: Phases LP 2 to 9 in accordance with the HOAI
Structural engineering: Phases LP 2 to 6 in accordance with the HOAI
Construction supervision
Development of overall safety concept
Development and coordination of design specifications for the tunnel portals
Site management
Air quality testing