PPP PROJECT A6
BETWEEN WIESLOCH/RAUENBERG INTERCHANGE AND WEINSBERG JUNCTION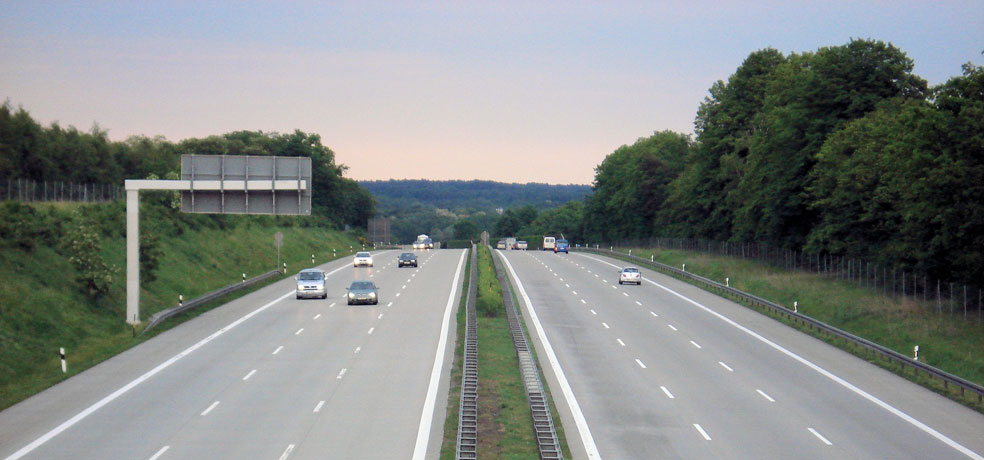 PPP project on the A6 autobahn successfully awarded
Starting in 2017, the A6 autobahn will be expanded to six lanes as part of a PPP project over a length of 25.5 km between the Wiesloch/Rauenberg interchange and the Weinsberg junction; furthermore, it will be maintained and operated over 47.7 km – including the sections that have already been expanded – for more than 30 years. 
After the competition was completed in late April 2015, the Federal Ministry of Transport and Digital Infrastructure (BMVI) and the State of Baden-Württemberg awarded the contract for the implementation as a public-private partnership model to the ViA6West bidder cooperative on October 21, 2016. 
As the leader of an interdisciplinary advisory team – consisting of engineers, lawyers, financial service providers, and business consultants – Schüßler-Plan played a major role in the conceptual design, consulting and management of the complex bidding procedure; furthermore, Schüßler-Plan carried out economic feasibility studies. In addition to managing the bidding procedure, Schüßler-Plan was responsible for the creation of parts of the superordinate bidding documents, including the project contract.
Schüßler-Plan has been advising the federal and state governments since 2004 in terms of the development and implementation of complex bidding processes for operator models in federal trunk road construction.
Client
Federal Ministry of Transport and Digital Infrastructure (BMVI), State of Baden-Württemberg, Stuttgart Regional Board
Location
A6 between Wiesloch/Rauenberg interchange and Weinsberg junction
Technical Details
Length of 6-lane expansion: 25.5 km
Total lenght of PPP operator model:  47.7 km
Services provided by Schüßler-Plan
(within an interdisciplinary advisory team)
Development of the project-specific business model
Advice on the bidding for the PPP model
Management of the bidding process
Preparation of bidding documents
Services for the BMVI:
Implementation of economic feasibility studies
Drafting of the award notice (information memorandum and notice)
Development of the concession contract
Contract negotiations
Services for order management in Baden-Württemberg:
Answering candidate questions within the framework of EU-wide participation in the competition
Testing and rating of participant applications
Preparation, coordination and finalization of the following chapters of the bidding documents:
Chap. 1 Table of contents
Chap. 2 Invitation to tender
Chap. 3 Bidding procedure
Chap. 4 Bid rating
Chap. 5 Application conditions
Chap. 6 Bid letter
Chap. 7 Forms


Answering bidders' questions during the bidding phase