RADISSON BLU HOTEL TOWER
FRANKFURT/MAIN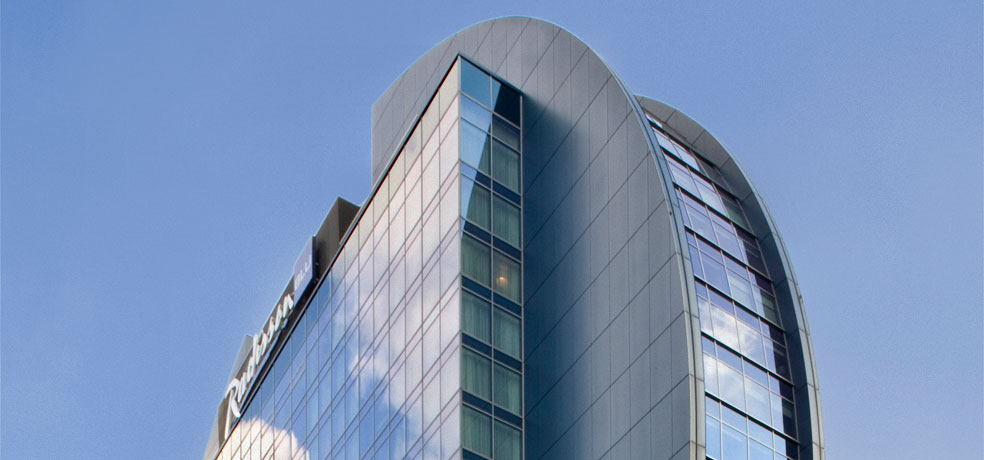 Radisson BLU Hotel Tower
The 20-storey hotel building located close to Frankfurt's Exhibition Grounds comprises two basement levels set on top of a 3-storey low-rise structure above which, the complex containing the 428 guest room towers. On the 18th floor is a spa and fitness suite with a swimming pool. London architects, John Seifert Architects were responsible for the design of the 84 m high hotel building that in elevation is a circular disc.
The entire structure is built of steel-reinforced concrete. An intercepting storey has been added between the pedestal and the upper floors, which connects both parts of the building, architecturally and statically to one another.
Whereas the building is essentially braced by means of the stair and lift cores and the supply shafts, the projecting sails are anchored to the stiffening core via the ceiling slabs. The foundations for the basement storeys were constructed using a pile-raft-foundation combination, the low-rise building is supported on a conventional flat foundation.
Client
HTP & Groß Projektentwicklungsgesellschaft mbH
Location
Frankfurt/Main, Germany
Architects
John Seifert Architects
Technical Details
BVG: 136,981 m³
Height: 83.37 m
Ceiling loading capacity: 5 kN/m²
Ceiling span: 8 m
Parking spaces: 237
Services provided by Schüßler-Plan
Structural engineering: HOAI phases 1 to 6
Special service: Façade design