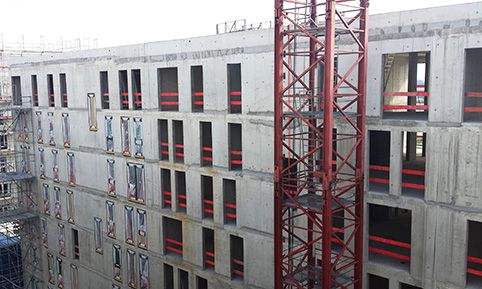 New, multifunctional city quarter: Grand Central
In the middle of Düsseldorf, the regional state capital, and within walking distance of the Central Station, Catella Project Management is developing a new, modern, multifunctional city quarter on the area of the former post distribution centre which is to be completed by 2018: the Grand Central. On a 38,000 m² plot of land, eleven structures will be built according to the drafts of the architecture firms Jürgen Mayer H., Delugan Meissl, Eller + Eller and HGMB Architekten and a mix of use of residential (privately financed, funded publicly, for reasonable prices), office, retail, hotel, fitness centre and children's day care centre. The structural design concept for the physically separate building envisages a reinforced concrete structure which predominantly uses flat slabs. High rise building 1, with its distinctive building shape and characteristic projecting and recessed floors, will be constructed using an arrangement of offset supports. In addition to the structural design for the above-ground and underground areas, Schüßler-Plan has also been commissioned to provide project management for the new city quarter.
The complexity of the project is on the one hand due to the size of the construction volume with its 18 to 19-storey high rise buildings, its 6 to 8-storey base constructions and its 1 to 2-storey car park. On the other hand a variety of specialist disciplines and participants owing to  multiple usage requirements and the inner-city location needs to be coordinated. The management of parallel processes from constructional planning and general planning to building application prove to be equally important. 
Client
Catella Project Management GmbH
Location
Düsseldorf
Architects
Jürgen Mayer H.
Delugan Meissl
Eller + Eller
HGMB Architekten
Technical Details
Site area: 38,000 m²
Services provided by Schüßler-Plan
Structural engineering: HOAI phases 1 to 4
Project management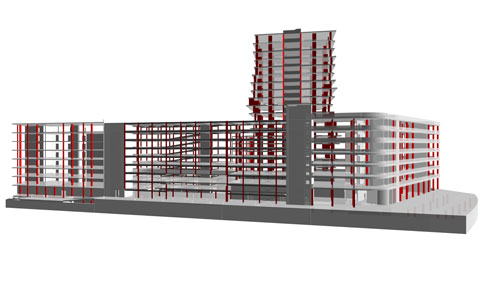 3D structural model