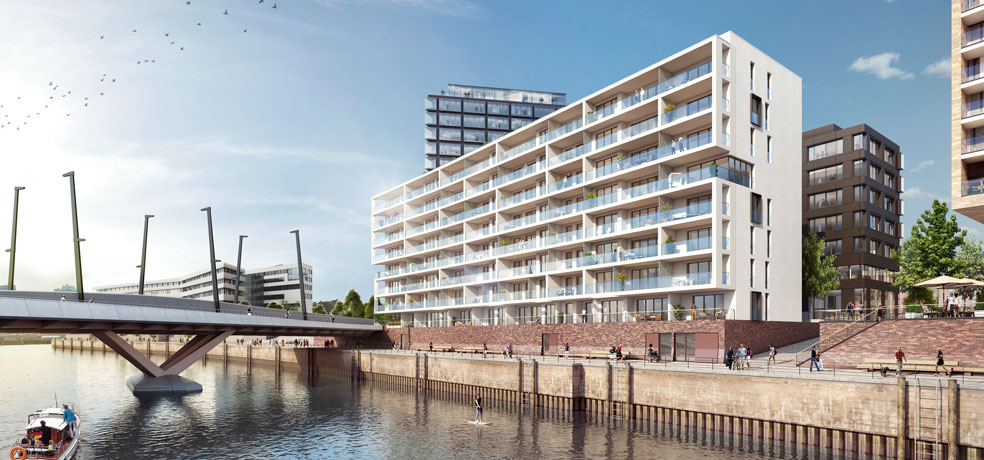 Structural design in 3D
In the east of Hafencity Hamburg, Garbe Immobilien-Projekte GmbH is developing the Campus Tower newbuild. The complex mainly consists of buildings for office and residential use above a shared two-level underground car park. The gross floor area (GFA) of the planned development is approx. 22,120 m². The office use is in a combined tower and bar-effect building facing Versmannstraße, the residential use in a southern bar-effect building facing the harbour basin. 
The 15-storey tower building with a total height of 56 m and the adjacent office block on 7 floors has been designed by Delugan Meissl Associated Architects of Austria, the south-side building by slapa oberholz pszczulny | sop architekten of Düsseldorf.   
Schüßler-Plan is responsible for the structural planning (performance phases 1 – 6) for the entire complex of buildings and the design of the foundation pit. All plans produced by Schüßler-Plan concerning the structural planning are shown in a continuous, spatial 3D model in order to optimise the support structure, details and planning.
Design
The structural design is a reinforced concrete design with 25 cm-thick flat slabs which are fitted with thermal component activation in the Tower and the office block.
The very slender supports in the high-rise are realised in high-strength concrete (strength category C 80/95). As the bottom edge of the structure is largely located in a filling which consists of loosely-packed and soft layers, the load is transferred to the lower-lying sand that is able to take a load in the form of a pile foundation. The piles are planned in the part-displacement process with a diameter of 80 cm and have a height of up to 25 m in the high-rise. In the transition area between the tower and office building along Versmannstraße, an unsupported 16.20 m-wide passage to the inner courtyard is planned.
3D modelling on the basis of BIM
Building Information Modelling is a partnership-based method for the design, construction and operation of buildings, engineering structures and transport infrastructures. All architectural, technical, physical and functional characteristics of a property are brought together in a central, consistent 3D model. Communication, transparency and data quality are improved, important details are recognised early and errors are reduced to a minimum.
Client
HafenCity Hamburg GmbH
Architects
Delugan Meissl Associated Architects
SOP-Architekten
Technical data
GFA total: 22,120 m²
Height: 56 m
Floors: 16
Floors of office block: 7 (GF including gallery floor + 6 upper floors)
Schüßler-Plan performance phases
Structural design: Performance phases 1 to 6 in accordance with HOAI
Foundation pit design