LOAD-BEARING FAÇADE
WUPPERTAL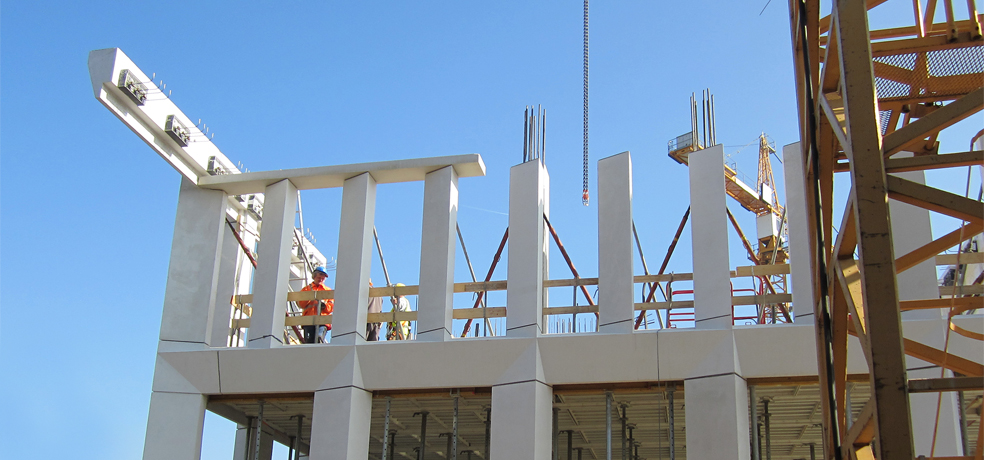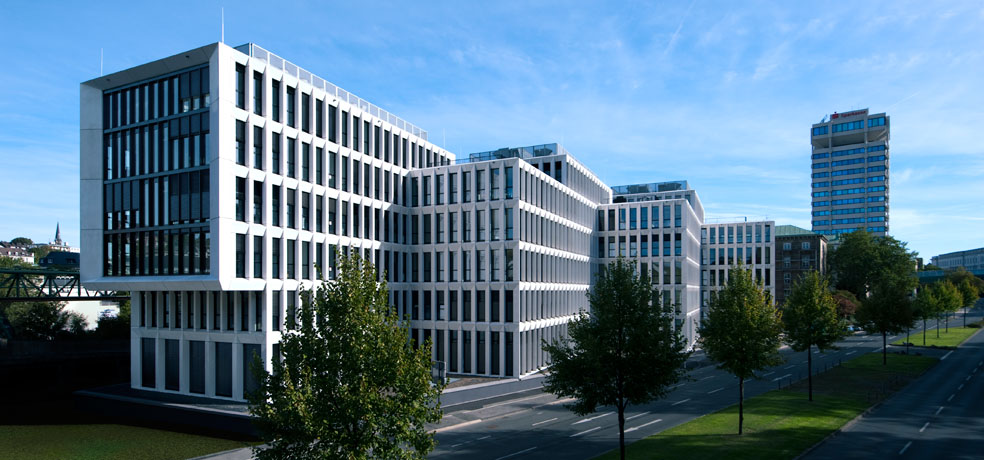 Load-Bearing Façade Wuppertal
A prestigious new building with a distinctly profiled, white, fair-faced concrete façade has been erected in Wuppertal-Elberfeld, directly adjacent to the Ohligsmühle suspension railway stop. This façade is also the engineering highlight of the structure, with its 5-storeys above ground, two below and 10,500 m² of gross floor area above ground. Optically, the trapezoid and triangular façade elements set close together, create an ever-changing play of light and shadow. Structurally, the pre-cast concrete mullions and transoms have a load-bearing function. It was thus possible to do away with the need for edge supports in the interior of the building and to create far more generous spaces and flexibility of use. The underground car park stands on a flat foundation, the floor slab below the supports and walls is only 40 cm thick and was stiffened with haunches. The footings are 2.70 m below the groundwater level, leading to the sole plate and external walls of the foundations being formed as a jointless, waterproof concrete tank, made in-situ using standard C35/45 concrete.
The ceiling over the 2nd basement was achieved using a thickness of only 28 cm even though it spans distances of up to 10 m. The projecting beams in the threshold area of the ceiling above the 1st basement receive the façade supports in the rising storeys and in turn transfer the loads to the supports and walls of the underground car park.
Client
BEMA Development GmbH
Location
Wuppertal, Germany
Architects
HPP Architekten, Design
BM+P Architekten Hesse und Haselhoff, Execution
Technical Details
GFA in total: 18,000 m²
Parking spaces: 175
Services provided by Schüßler-Plan
Structural engineering: HOAI phases 1 to 6