MERCEDES-BENZ SALES HEADQUARTERS
BERLIN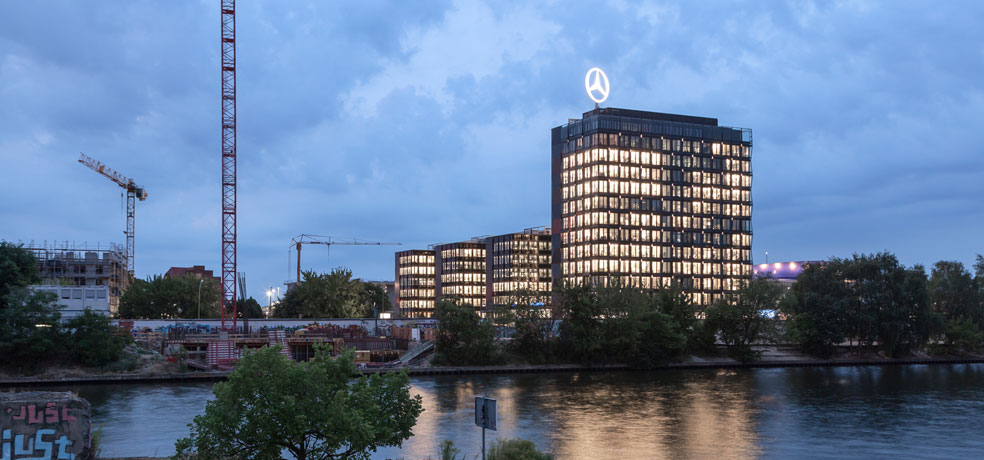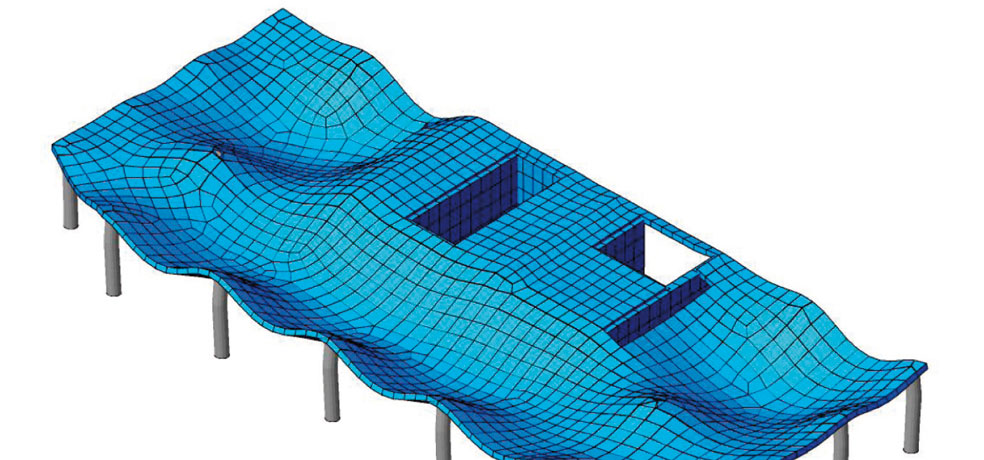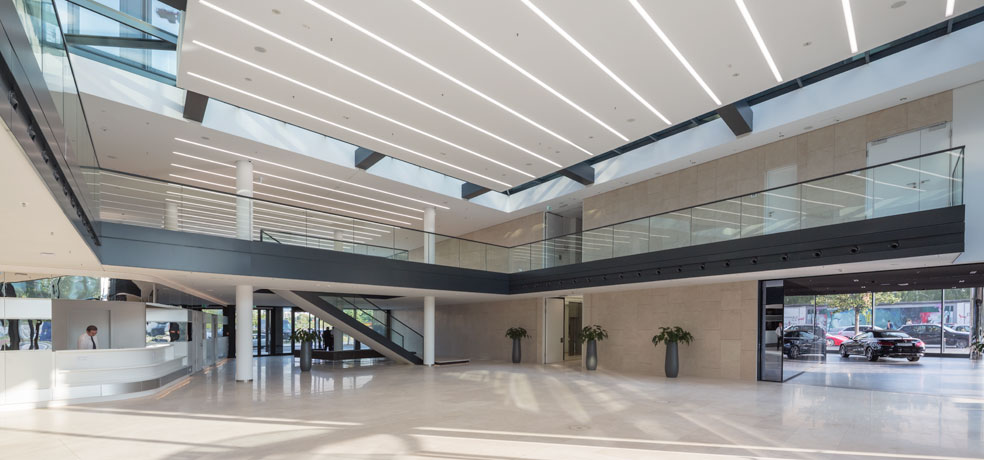 Mercedes-Benz Sales Headquarters Berlin
The complex comprises a 13-storey high-rise tower with a generously proportioned showroom on the ground floor and 3 further, 7-storey structures all built over an underground car park. The office building has space for around 1,200 staff. The complex was designed as a jointless, reinforced concrete skeleton construction with one stiffening core per building. The single-storey underground car park was also constructed as a jointless, waterproof concrete tank with a continuous floor slab. Due to the increased thickness required for the floor slab to the tower, a concrete trough composed of sheet piling and an injected base was built, elsewhere a pit with sloping sides and open dewatering was used. The roof slabs are all continuous, 25 cm thick flat roofs; due to the extensive spans in the tower, these were pre-tensioned by up to 8.5 m. The building has been awarded a Silver certificate by the German Sustainable Building Council (DGNB).
Variant Analysis of Supporting Structure
The supporting structure of the building had to satisfy two essential criteria: firstly, due to the planning restrictions regarding the height of the building and the requirement to ensure the greatest possible clear ceiling heights, the ceiling heights were restricted and were not to exceed 25 cm. Secondly, the showroom situated in the front of the tower should be kept as free from columns as possible. The contract was based on sketched ideas for the supporting structure of the showroom with plenty of columns and extensive ceiling spans of up to 10 m, which had been prepared during an earlier phase of the project; this could not be implemented using ceiling slabs of only 25 cm. Schüßler-Plan therefore analysed four different variants for the supporting structure of the tower, of which Variant 3 with 4 main columns, 2 in the showroom and 2 at the edge was executed. It proved possible to execute the biaxial span of 8.5 m with a 25 cm thick ceiling slab by pre-stressing in order to prevent distortion. This was achieved using unbonded single strands and free pre-stressing tendons.
Client
omniCon on behalf of CA-Immo
Location
Berlin, Germany
Architects
Gewers & Pudewill Architekten
Technical Details
GFA Tower: 26,000 m²
GFA Underground Car Park: 4,500 m²
Parking spaces: 100
Services provided by Schüßler-Plan
Structural engineering
Pre-planning
Design drawings
Permit application drawings
Tender preparations
Execution drawings